Free Immigration Counseling in Enid, Oklahoma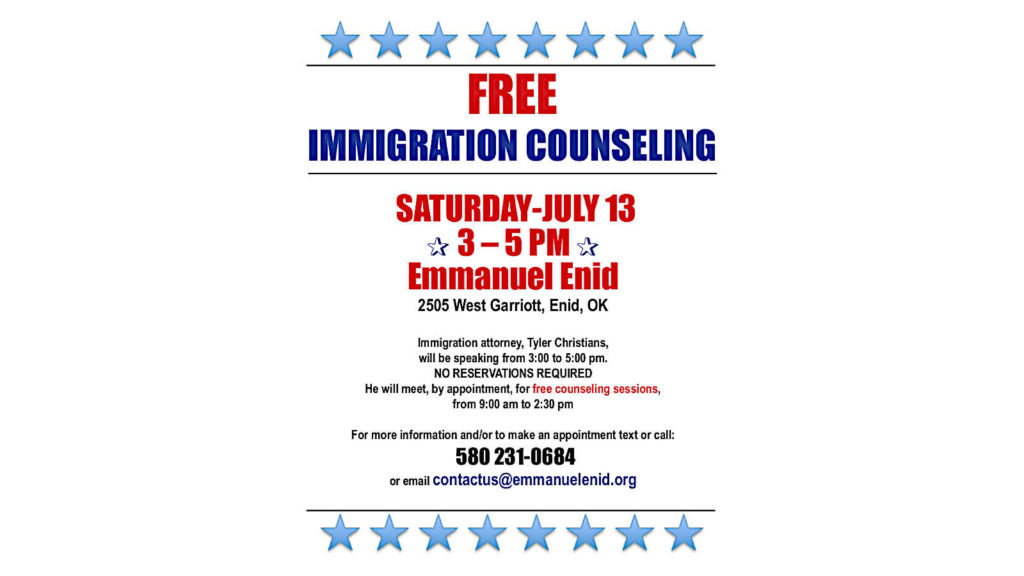 Tyler Christians of Christians Law, PLLC is providing free immigration counseling in Enid, Oklahoma this weekend. On Saturday, July 13, Mr. Christians will meet with individuals, businesses, and families for free immigration counseling sessions at Emmanuel Enid, located at:
Emmanuel Enid
2505 West Garriott, Enid, OK 73703
The free counseling sessions do require an appointment. Mr. Christians's counseling sessions will run from 9:00 A.M. to 2:30 P.M., this Saturday, July 13, 2019. Appointments can be made by calling or texting 580-231-0684. You may also make an appointment by emailing contactus@emmanuelenid.org.
In addition, Mr. Christians will be speaking on a variety of immigration related topics from 3:00 P.M. to 5:00 P.M., also at Emmanuel Enid. No reservations are required to attend the speech. Mr. Christians will be available to answer questions and help as much as he can with everyone who comes to the event.
---
For more information, please feel free to contact Emmanuel Enid using one of the methods above, or give us a call by tapping or clicking here at 571-641-3033. Christians Law, PLLC may also be reached by phone or text at 405-401-2300. Please also visit our contact page here, or fill out our form below and we will get back to you as soon as possible. Thank you for visiting tchristians.com. Christians Law, PLLC – The Law Firm of Tyler Christians.