Celebrating 10 Years of Legal Services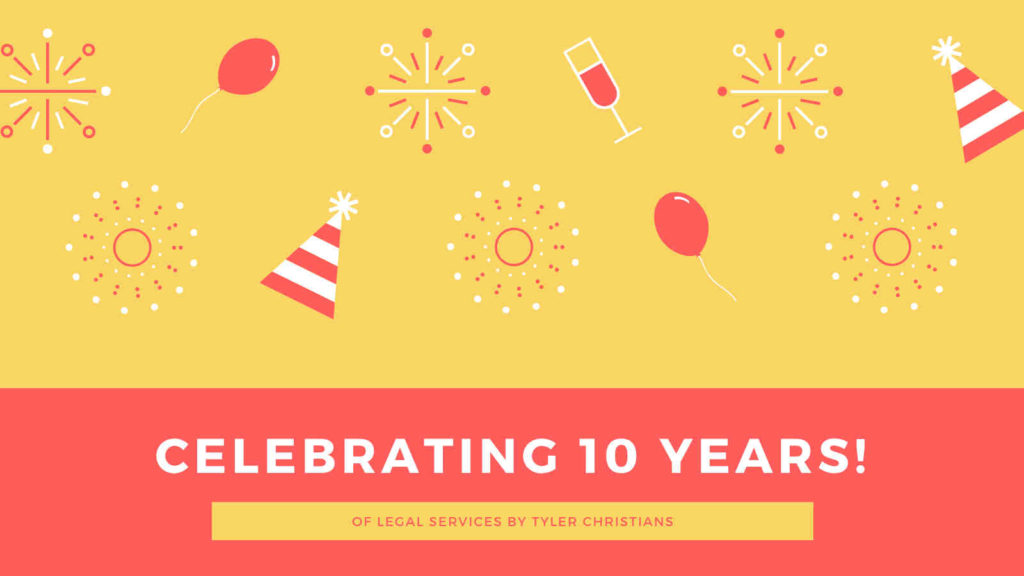 We are celebrating 10 years of Tyler Christians practicing law. November, 2019, marks a decade of legal practice for Mr. Christians. As detailed in his attorney profile, beginning in November, 2009, he first practiced law as a criminal defense attorney in Falls Church, Virginia, where he offices today (as well as Oklahoma City, Oklahoma). In March, 2012, he transitioned into immigration law, practicing in the Oklahoma City, Oklahoma area for approximately 6 years.
In the summer of 2018, Mr. Christians opened Christians Law, PLLC in Falls Church, Virginia, which now also offices in Oklahoma City, Oklahoma.
It is our clients that make occasions like this special. Over the past decade, Tyler and his staff have been fortunate enough to meet and handle cases for many wonderful people. From basic traffic tickets to complex family-based and employment-based immigration cases, Tyler Christians has worked on a lot of cases in this ten year period. We would like to take this opportunity to thank you all for trusting us with some of your life's most trying events, circumstances, and situations. We couldn't have made it this far without you and hope you all are doing well.
---
We are available and here to help.
If you ever need an immigration lawyer, Christians Law, PLLC is here to help. Tyler Christians is an experienced immigration attorney and can help you with your immigration needs.
Please feel free to give us a call at 571-641-3033 by clicking or tapping here, send us a text at 405-401-2300 by clicking or tapping here, or simply fill out our short form below and we will get back to you as soon as possible.
Thank you for visiting tchristians.com.
Christians Law, PLLC is an immigration and criminal defense law firm with offices in Falls Church, Virginia, and Oklahoma City, Oklahoma, but we can help you wherever you are in the world.