This is an Avvo review by an anonymous client.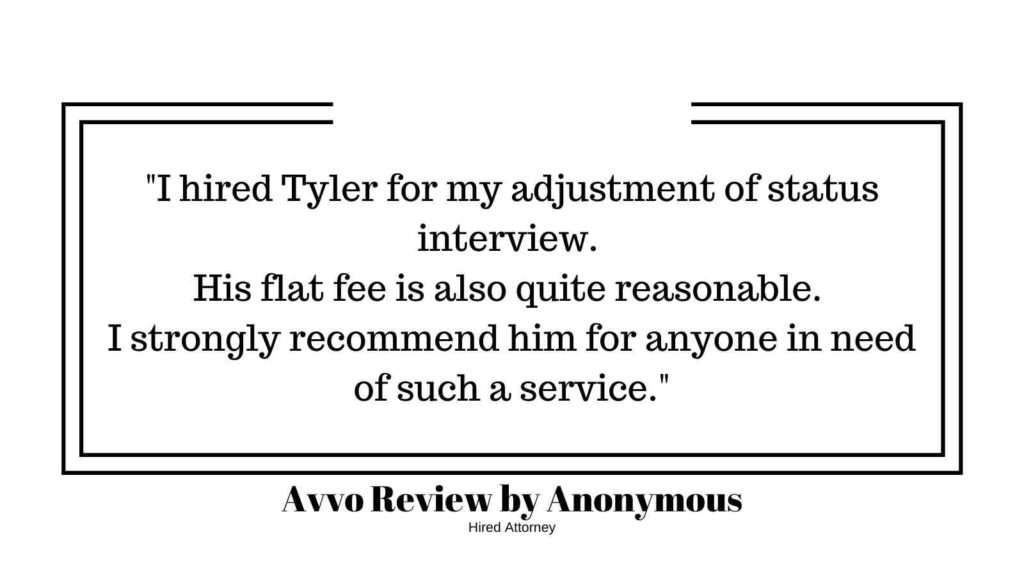 Review
The following is the full review left by an anonymous client on Avvo:
"I hired Tyler for my adjustment of status interview. We were quite close to the interview date and had a complicated charge against me in my home country. Being a detail-oriented person, Tyler quickly understood the charge and came up with a good defense plan in case needed. While Tyler calmed us down and prepared us very well for the case, he was also up front on the potential of waiting up to a year to get approved; In the end, our interview went quite well. Approximately, 3 weeks after the interview, we received a notice stating that our case approved without any issues. His flat fee is also quite reasonable. I strongly recommend him for anyone in need of such a service."
The above review originally appeared here on Avvo on November 3, 2019.
---
We are here to help.
If you or someone you know has an upcoming Adjustment of Status interview, or just needs immigration advice, Tyler Christians is the immigration attorney for you. Mr. Christians is an experienced immigration lawyer and can help you with your immigration needs.
We are available to help you.
Tired of searching around the internet reading review after review of various immigration attorneys and just want a quality law firm to help you with your case?
Just call us by clicking or tapping here at (571) 641-3033, send us a text by clicking or tapping here at (405) 401-2300, visit our contact page, or simply fill out the form below and we will get back to you as soon as possible.
Thank you for visiting tchristians.com.
Christians Law, PLLC is an immigration and criminal defense law firm with offices located in Falls Church, Virginia, and Oklahoma City, Oklahoma.