Special Immigrant Religious Worker Returns to Oklahoma – Welcome back, Pastor Arwakon, and the Arwakon family!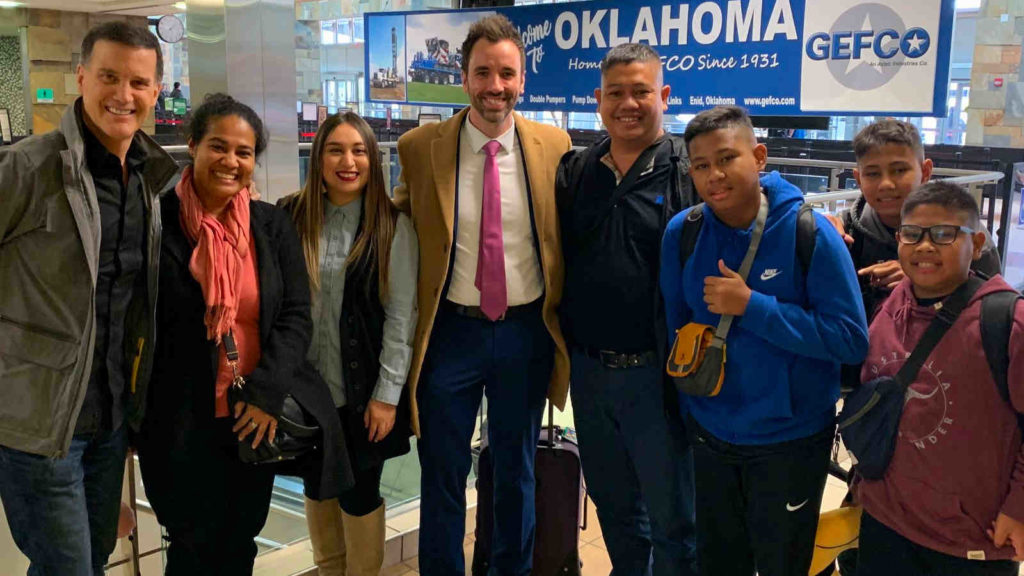 The Arwakon family landed on January 30, 2020, at the Will Rogers Airport from the Marshall Islands. The Arwakon family will be living in Enid, OK as U.S. Permanent Residents. Pastor Arwakon will be leading the Pacific Islanders Ministry at Emmanuel Enid church. Attorney Tyler Christians helped facilitate their process of gaining permanent residency, with his immigration expertise, as Pastor Arwakon received an approval for Special Immigrant Religious Worker. We're all excited for Pastor Burleson, Pastor Arwakon, and Emmanuel Enid as their church family grows!
Where is the Marshall Islands?
The Marshall Islands, or the Republic of the Marshall Islands, is a set of islands in Oceania, nearly six thousand (6,000) miles from Enid, Oklahoma. That's a long way to travel!
Where is Enid, Oklahoma?
Enid, Oklahoma, the ninth largest city in Oklahoma, is located about 100 miles northwest of Oklahoma City, Oklahoma. You may visit Emmanuel Enid Church at 2505 W Owen K Garriott Rd, Enid, OK 73703. Visit their website, emmanuelenid.org, for more information related to their ministry, programs, events, etc.
What is a Special Immigrant Religious Worker?
Special Immigrant Religious Worker is a category of worker in employment-based immigration designated for ministers and non-ministers in religious vocations and occupations who may immigrate to or adjust status in the U.S. for the purpose of performing religious work in a full-time compensated position. See the USCIS website for Special Immigrant Religious Worker for more information.
---
We are here to help.
If you or someone you know are a religious worker, and are thinking about immigrating to the United States, or if your ministry needs assistance bringing special immigrant religious workers to the United States, Christians Law, PLLC is here to help. Tyler Christians is an experienced employment-based immigration attorney and can help you with your immigration needs.
Want to get in touch? Just give us a call by clicking or tapping here, text us by tapping here, visit our contact page, or simply fill out our contact form below and we will get back to you as soon as possible. The contact form is best for people who have a question or want to get in touch, but can't or don't want to get on the phone right away.
Thank you for visiting tchristians.com.
Christians Law, PLLC is an immigration and criminal defense law firm with offices in Falls Church, Virginia, and Oklahoma City, Oklahoma.
We can help you wherever you are in the world.