New employment authorization guidance has been issued by the USCIS, updating the Parolees section of its Policy Manual.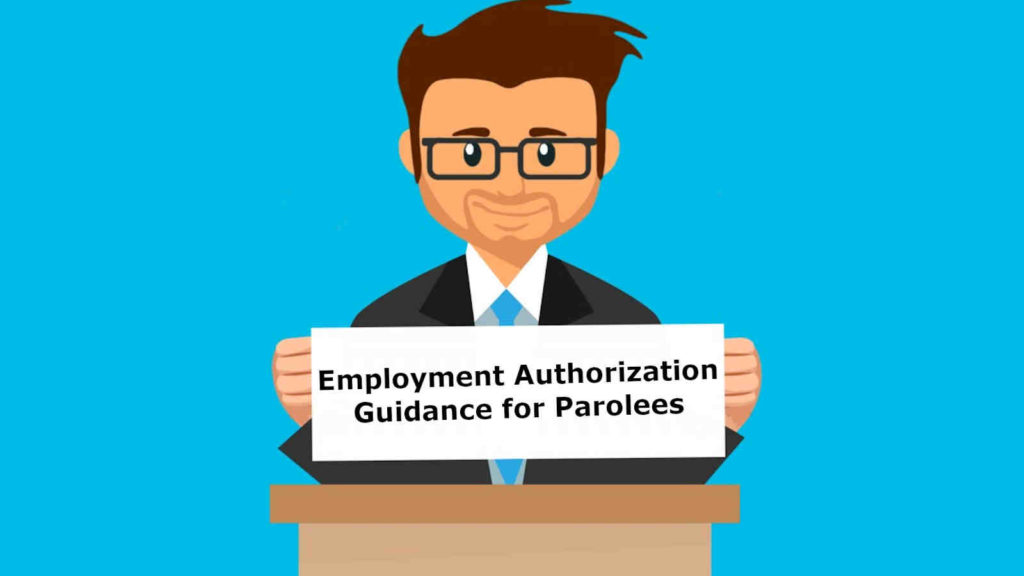 Employment authorization guidance for parolees changed on August 19, 2019, when the USCIS updated its policy manual. With the exception of individuals paroled under the International Entrepreneur Rule, parolees seeking employment authorization in the United States will now face heightened scrutiny by adjudicators. According to this announcement, the USCIS made this move as part of its efforts to address loopholes in the existing immigration system/U.S. legal immigration framework,
"Directly addressing loopholes that encourage the exploitation of our immigration system is the only way forward. Responsible stewardship of our discretionary authorities enhances our ability to provide relief to those who lawfully qualify for it. With that in mind, USCIS is taking action within its discretionary authority by only granting employment authorization to parolees after consideration of all relevant factors on a case-by-case basis. This decision is in response to the national emergency at the southern border where foreign nationals are entering the United States illegally, as well as based on a review of USCIS adjudicatory practices over the past few years." – Statement regarding the change in policy guidance by Acting Director Ken Cuccinelli
Specifically, the USCIS Policy Manual has been updated to include a list of favorable and unfavorable factors to consider when reviewing a parolee's application for employment authorization. Below are some of the favorable and unfavorable factors listed in the policy manual updates. (Here is a useful link to the specific section of the policy manual including the August 19, 2019, updates)
Some Favorable Factors
An emergent event or circumstances requiring employment authorization
The length of time paroled (The longer, the more favorable)
Willingness to assist in the prosecution of a crime
Prior lawful entries/stays in the United States
Other favorable factors
Some Unfavorable Factors
Any criminal history, especially serious crimes or felonies
Fraud or material misrepresentations to obtain an immigration benefit
Whether the applicant has an existing final order of removal
The length of time paroled (The shorter, the less favorable)
Other grounds of inadmissibility
---
If you or someone you know are paroled or are seeking parole into the United States and have questions about applying for employment authorization, or the new employment authorization guidance, Christians Law, PLLC is here to help. Tyler Christians is an experienced immigration attorney and can help you with your immigration needs.
Want to get in touch with us?
Just give us a call or text by clicking or tapping here, visit our contact page here, or simply fill out the form below and we will get back to you shortly.
Thank you for visiting tchristians.com.
Christians Law, PLLC is an immigration and criminal defense law firm with offices in Falls Church, Virginia, and Oklahoma City, Oklahoma.