Do you know your DACA options?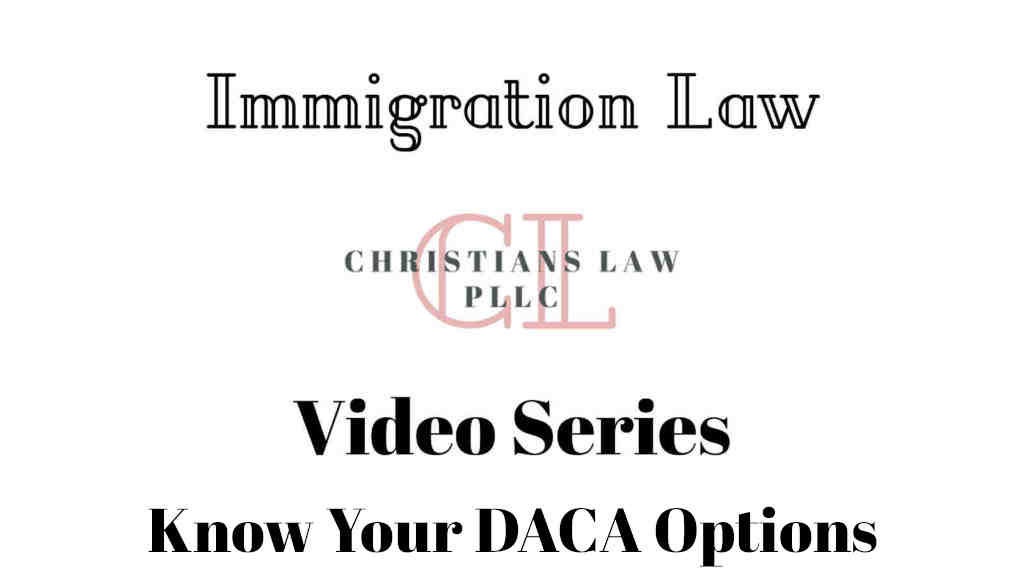 Do you know your DACA options? In this short video, the next of our Immigration Law Video Series, Tyler Christians of Christians Law, PLLC explains some options you may have with DACA (Deferred Action for Childhood Arrivals).
Video: Know Your DACA Options
Video Transcript
For your convenience, and in case you prefer to read rather than watch the video, we have provided the transcript of Know Your DACA Options below. Please note that some of the text has been modified to make it easier to read.
Hello everybody and welcome again to my video series. Today, I want to talk about a topic I'm passionate about, and that's the DACA program. As many of you probably know, the Trump administration has attempted to terminate the program.

Recently, they were at the U.S. Supreme Court and the U.S. Supreme Court is considering whether or not to allow the Trump administration to terminate the program. Many believe that the Supreme Court will uphold his ability to terminate the program and so I have several recommendations to those of you who are on DACA.

If you're eligible, renew it.

If you need to determine whether you are eligible, consult with a lawyer. Know your options. You may have additional options that you were not aware of. You may have additional options based on historical family immigration. If you would like to consider your options, please get in touch with a lawyer.

The last thing I recommend for everybody, to whatever extent possible, is to be prepared. There could be a change next year (2020) and you need to be prepared. So, whatever it is that you and your family need to do for that, do it. I'm always here available to answer questions for people. If you would like to get in touch with me, please see my contact information on the website and I would look forward to hearing from you. Thank you very much.
---
We are available and are here to help, wherever you are in the world.
If you or someone you know is on DACA, or want to know your DACA options moving forward, Christians Law, PLLC is here to help. Tyler Christians is an experienced immigration lawyer and can help with your immigration needs.
Just give us a call by clicking or tapping here, send us a text by tapping here, visit our contact page, or simply fill out the form below and we will get back to you as soon as we possibly can.
Thank you for visiting tchristians.com.
Christians Law, PLLC is an immigration and criminal defense law firm with offices in Falls Church, Virginia, and Oklahoma City, Oklahoma.