Honest, straight, and very professional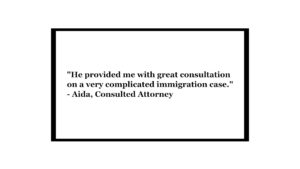 Aida, Consultation Testimonial
June 19, 2018
He was recommended to me by a friend who used him. He provided me with great consultation on a very complicated immigration case, and we were going the wrong direction and approach, He didn't only guided us to the right path, but he went beyond by conducting a full search on all the document needed, with names and phone# on who we should be contacting. It saved time and headache and running in circles that will need us no where.
I would highly recommend him.
This review is from a potential client who consulted with this attorney.